It's school holidays again. Sis will be free for only 1 month and she plotted her calendar to recharge her energy to visit me this year. So, what's up for the super-makan family sama kaki (same) like mine. Chinese food is a must. Some nice food plans are in our list as shopping is not preferred by her. Eating is the best entertainment other than shopping, right?
We patronized Restoran Yook Tho Yin specially for the order-to-cook soup and pork knuckles.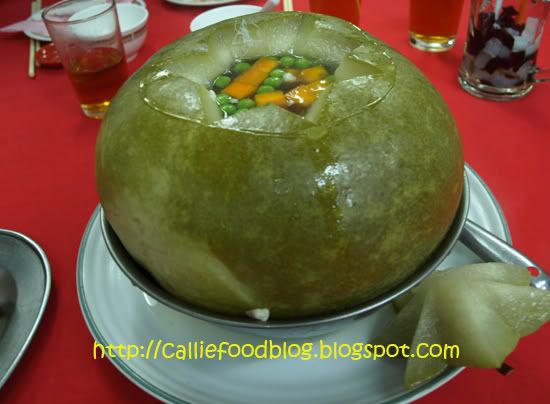 Order-to-Steam Winter Melon Soup. The melon was also specially ordered to store the costly ingredients of dried scallops, gingko, crab claws and chicken meat. A true soup for any soup lovers and it's YTY's famous soup.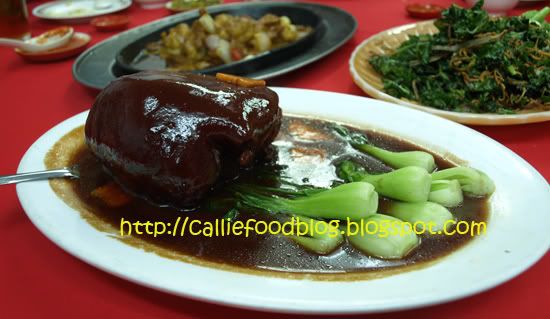 Yun Tai Pork Knuckles (L), also an order to cook dish was super delicious for us. Real good especially the slippery collagen skin. Since we have ordered too many large dishes, I tapao (take-away) home. Yummy, it tasted even better after 2 days with white rice and stir fried vegetables.
Deep fried tofu topped with seafood and tasty smooth pumpkin sauce were nicer than eating the older version of mun heong tofu. Hmmm... Trendy and new version Tofu with seafood in pumpkin sauce is most popular nowadays. Today, Chef are clever and creative. Pumpkin can be creatively blended to make such a nice sauce especially with its natural yelllow colour.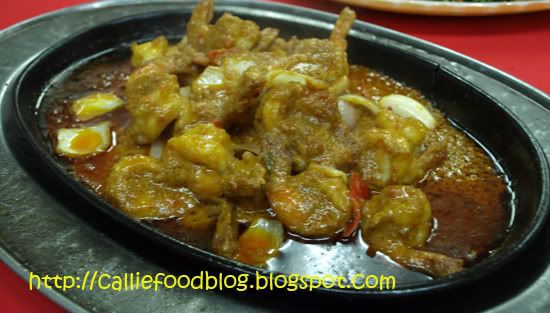 Mutli spicies spicy prawns in hot plate was just as nice as nyonya dish for those who loves spicy food. Specially recommended by those who never forgets eating this dish with white rice. It will be even nicer to be eaten with not too many dishes. Will be back for this dish if I am on cooking strike!
Yin Yang Kailan Vegetables, a two style cutting and cooking dish. Some restaurants have the leaves shredded finely while YTY served with bigger pieces. I think the bigger leaves are nicer and crunchier.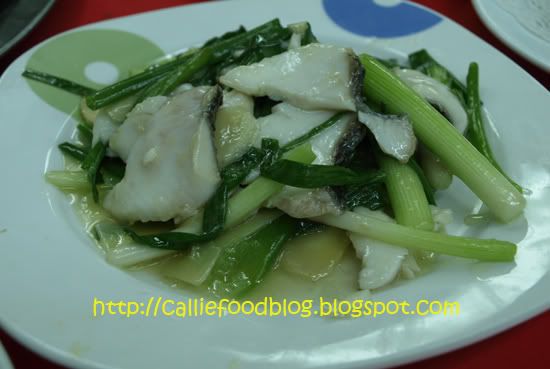 Stir Fry ginger, spring onions fish fillet was served last. Yet, with all the large portion of dishes we were able to eat them up. Real best, we kaki makan, really eat the kaw kaw!

This handsome roasted pork arrived first. These lovely roasted pork were gone in just a little while before the soup arrives. Top 5, roast pork in PJ are available for sale every day together with Roasted Duck.

All at about RM160.00 excluding rice and tea/drinks. Everyone seemed to be enjoying the varieties of food. Hoon, Boo and Huang, we hope you like the food which may be different from Penang. After dinner, our next destination was Niu Xe Zui, Boulevard Shopping at Ara Damansara.

We did not get there on the same day. The road leading to NXZ was teribbly jammed from FAS, the only way in to NXZ. There is an ongoing Christmas celebration of Walt Disney widely advertised throughout Malaysia. NXZ is a boring place after CNY and towards CNY this place is just as crowded as Petaling Street. Why? Go and and enjoy the jam and the squeeze. Got- try- got- experience yeh!