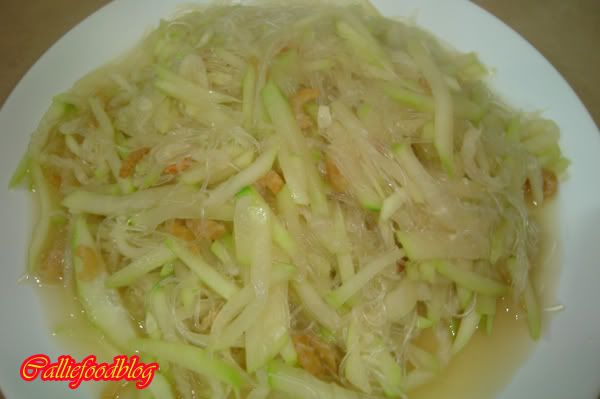 Hairy Gourd aka Mao Gua is very common in Chinese Hakka homes. A dish which not every family likes to eat.
Remove skin. Cut gourd into stripes. Saute soaked dried shrimps till fragrant. When the fried shrimps started to pop-out, add in slices of gourd. Fry and mix them together. Add in a little chicken granules, some water and let it simmer for while. Once the gourd are soft, add in some tung fun aka glass nooldes. Let it cook for a while and when the glass noodles turn soft, dish out and serve.

The taste is original with the sweetness of the gourd and the saltiness of the dried shrimps.
This medium sized gourd which I have gotten from Tesco and 1 is enough for my family meal.
Whenever, I see any of these nice gourds at wet or hypermarket, I will buy one and keep in the fridge. It can last for a week if properly stored. An ideal dish for the
no rice diet
people. Easy to cook, nice and healthy dish.
Asian Vegetables Thesaurus
| | |
| --- | --- |
| Hairy Melon (Benincasa hispida var. chien-gua) | Index |

| | |
| --- | --- |
| English: | hairy gourd, fuzzy gourd, hairy cucumber, joined gourd |
| Chinese: | moa gua (hairy gourd), jie gua/chit chewie (node/joint gourd), tsit/tse chewie (fuzzy melon), dong kiang (winter gourd), tung chewie |
| Filipino: | kondol |
| Indonesian: | bleego,beleegoo, beligo, koondoor, kundur, tangkue |
| Japanese: | togan |
| Malay: | kundur, kundor panjang |
| Thai: | fak kio, faeng, mafeng |
| Vietnamese: | bí dao |