Today, Japanese Food is popular among the young and old. Many accepted that Japanese food is a healthy one with hot ocha, shashimi and a less-oil food. Price may not be healthy if you are tempted by the light-box menu or colourful garnish menu where one will possess an uncontrollable urge to savour them.

Hokano Japanese Restaurant is our choice to try something cheap as written in most bloggers' posts. Oh no, not true. The prices are like other restaurants, ranging from cheap to expensive choices. This set of Chirashu Sushi is RM21.50, served with salad and rice topped up with sushi.

Salmon Set at RM17.95. Not much to savour as the classy plate has over-shadowed the food. What a wise and creative food presentation!

Add RM11.05 we got this set as we ordered the 'classy plate' menu. Quite a big piece of salmon fish and it tasted good.

Sanma fish
is another version of mackerel. Priced at RM13.95 it was served with rice and soup. An ideal set for the like-to-eat people. Not enough, add one more to fill up the food urge.
Aha!, this filled up the makan urge. Cha Soba priced at RM8.50. Total bill at RM76.95 for 3 persons with ocha ice and hot.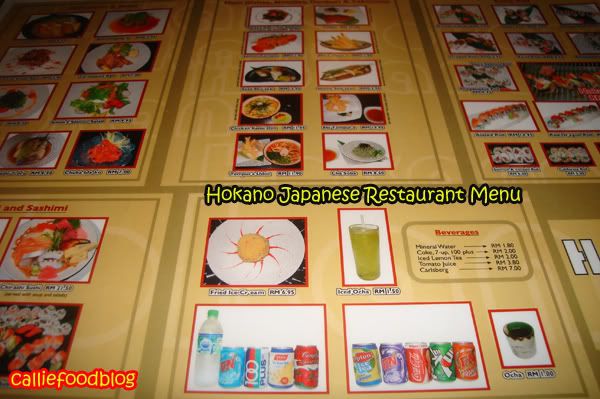 And, the Menu with a wide selection of foods for you to choose. At about 8.30pm there were 5 tables x 4 pax each already seated to be served. Hokano's business seems to be improving as they cater for family and office crowds.
This restaurant is situated at 74, Jalan SS21/35, Damansara Utama, Petaling Jaya, Selangor. (same row with Maybank)