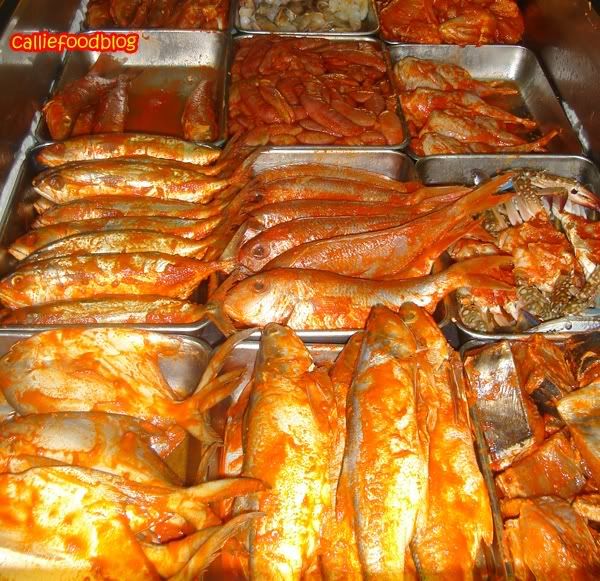 Kanna Banana Leaf Rice is popular with it's hill-top atmoshere and mild curry flavours. When you are seated, a group of energetic Waiters will approach you for orders. No need to go in to the restaurant if you choose to dine at the open-air area. Just order what you want and they will serve you. And this is the wide range of marinated seafood ready to be fried. Tempting right?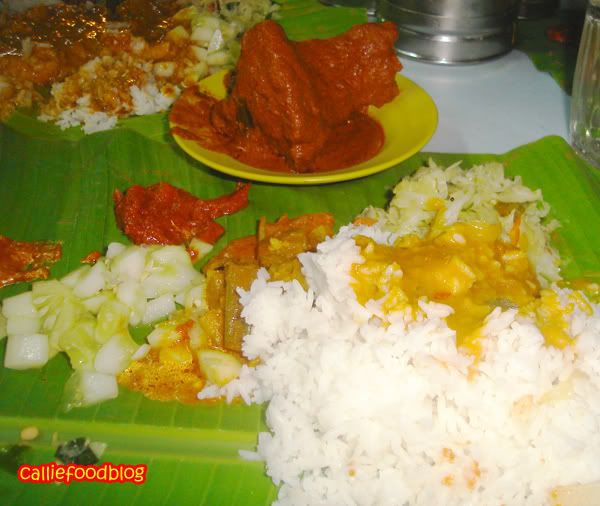 Quickly, one Waiter will lay banana leaves on the table and another will scoop rice generously and another one will scoop those veges and curries for you. However, the "triplet-container' with dhal, curry fish and curry chicken sauces will be left on your table for you to enjoy. You can even request for more if you like. Normally, we asked for dhall refill. Sedap!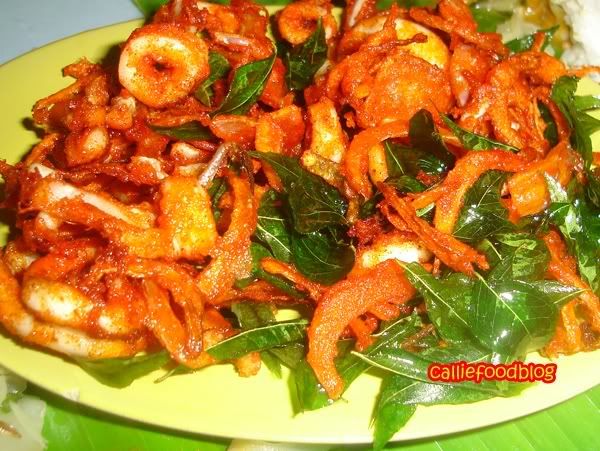 When we order fried squid, they communicated from one end to another, across the road and there the chef will do his frying. It was served shorty, hot and aromatic with lots of curry leaves and large onion crisps. A must to order wherever I eat at Kanna. Best!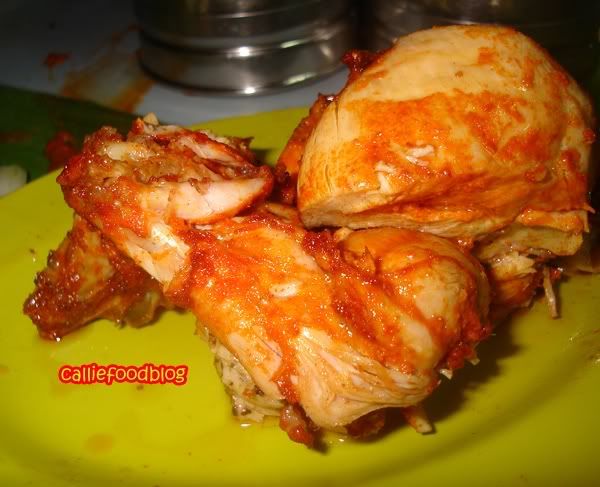 Fried chicken is delicious and meat is soft. It is tastier to eat banana leaf rice with hand and your fingers will do a good job like the Indians. No wonder, we can tear and squeeze meat easily rather than using the elegant-way of fork and spoon. Well, I saw lots of youngsters doing the same and happily eating under the trees. What a muhibbah culture!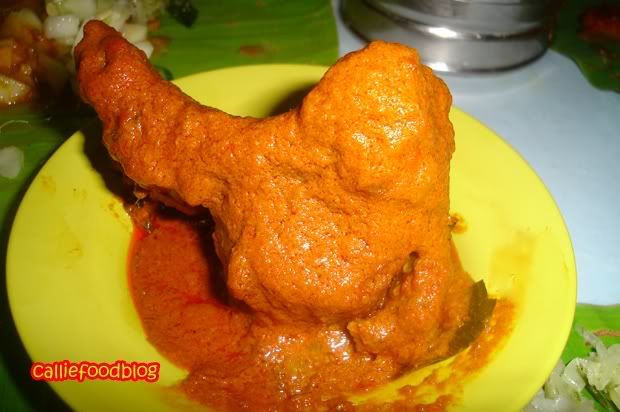 Lamb ribs readily available at food counter. A suitable dish for wet saucy food. This piece is the size of 3 ribs in one piece and tasted good with soft meat texture. With the standard serving of rice, vegetables, acar. fried squid, chicken, curry lamb ribs and drinks, the total bill is RM40.37 for three persons. The price are reasonable as we patronised Kanna at least twice a month.
Front view of Kanna Restaurant with 2 shoplots. You can choose to dine indoor and outdoor. No pictures of outside view as there were many diners around. Some diners will not be happy to be photographed and I have to respect their dinner ambience. We prefer outdoor as we like the dining under the trees with fresh air environment. Next post for more pictures, ok?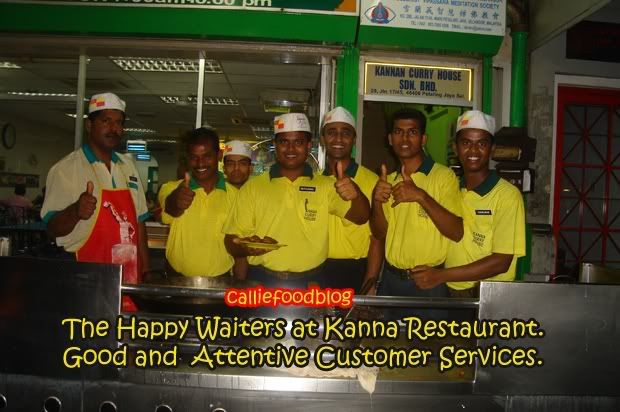 See.. these hard-working Waiters are not only energetic at work. They are hardworking in inviting pictures to be taken. When I go near to snap the marinated seafood, they are ready there for my clicking. What a team? See, their smiling faces and thumbs up. Tauke Kanna, if you read my blog, remember to make them happier and your customers will be even happier.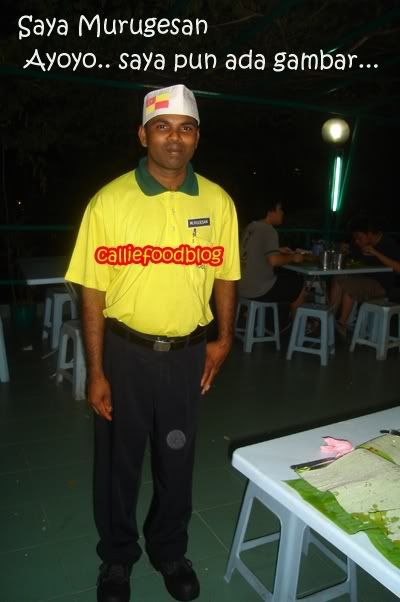 Ha ha ha.. This Waiter came to me and asks

Murugesan: Saya tak ade ke
Callie : Apa tak ede?
Murugesan : Dalam!
Callie : Ah? Dalam?
Murugesan : (Pointing at my camera) tu...
Callie : Oh.. Mari saya tangkap gambar mu.
Murugesan : Ayoyo... saya pun ada gambar.
See the way he post is just like John Trovolta in the 80's after the Saturday Night Fever Dance.
I show him the picture from my camera and he was even more happier. Will give him this picture if I eat there again next week.
So once they are happy, they will make customers happy. Go there to have banana leaf rice if you want to be happy.
Kanna Curry House is situated at Jalan 17/45, Section 17,
46400 Petaling Jaya
Tel No: 03 - 7958 4814, business hour from 7 am to 11 pm daily