BB Thai is just located next to Lala Chong Seafood Restaurant opposite Terminal 3 Subang Airport.
We used to dine at this seafood restaurant catering more on Thai taste. The dishes there are nice and tasty. But, 1 advise, never go to such places where there is a special day celebration like Mothers' Day, Fathers' Day, Human Day or whatever days we feel it's auspicious to celebrate together. Always call to book a table or forget about the dinner. If you just walk in, your order will be taken later, your food will be served very slow even you have finished chewing the peanuts and drinking your glass of tea, their service will be superb lousy and the food setting and garnishing will be horrible and with extra "taste". ( U know what I mean, hah)

BBQ Tilapia RM24.00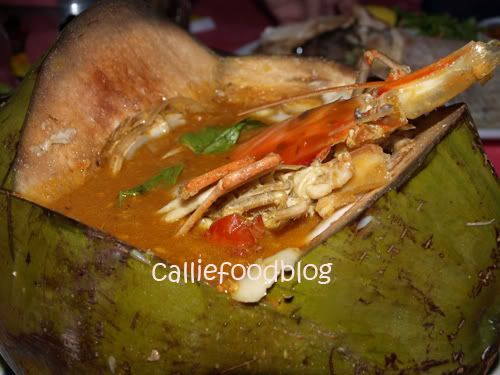 Prawns in Coconut RM25.00
.
Deep Fried Squid RM15.00
Taufoo RM12.00
BB THAI SEAFOOD VILLAGE
TEL : 7846-1200