How to cook these prawns? Hubby came home with these 5 fresh large- sized prawns which he bought together with some other fresh seafood from Mutiara Damansara TESCO. Since these prawns are fresh, he ordered from my kitchen "Cook with ginger wine and sesame oil, pan fry the prawns for some nice taste ok". So this wife gotto crack and pluck the recipe from the air.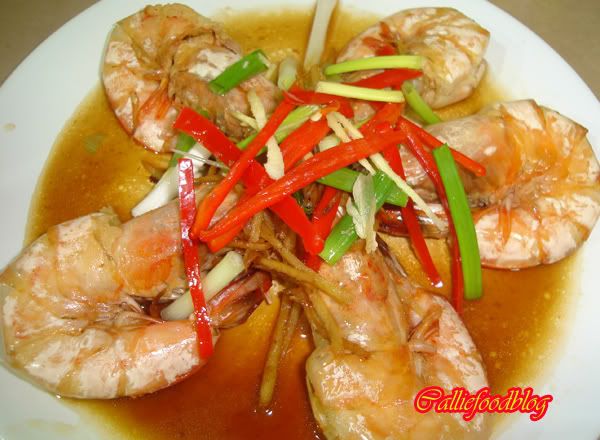 I used a pair of kitchen scissors to trim away the feelers and eyes and cut across the body to remove the intestinal vein (I normally say it's shit but my aunties said they are 'koh' which is ho lio.. eeek)
I just marinate them with a little salt and pepper and pan fry them with sesame oil. As usual I covered up the prawns while frying for moisture. 2 minutes at one side and another 2 minutes at the other side, dished out and set aside. Arrange prawns on serving plate.
Saute ginger slices till slightly brown, add in 3 dashes of fish gravy, 2 dashes of Lee Kum Kee selected light soy sauce. Pour in 1 capful of Eau Yan Sang Ginger Wine and add in 2 tablespoon of water. Add in prawns and give it a quick stir to mix the prawns and sauce together. Dish out prawns and garnish with red chilly slices and spring onions. It tasted good as I roughly pluck the taste from 'taichao' stall as it is a common dish anywhere. So, wife can bluffed hubby yeh!.
No panic and no worry if you do not khow how to handle large size prawns.
The tedious part of cleaning prawns can be solved here.
Why are prawns so tasty and likeable by all?