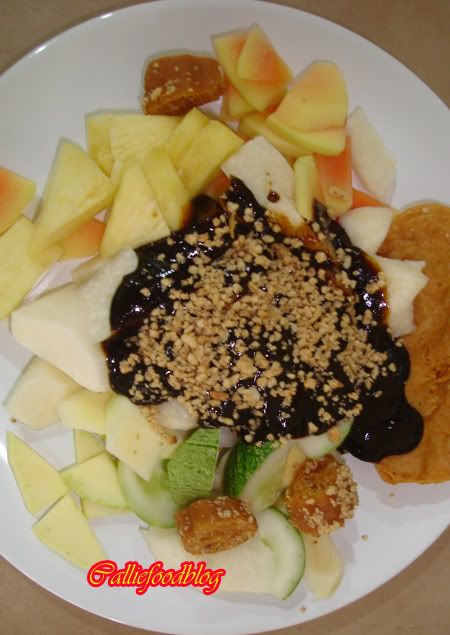 This is KL rojak with prawn crackers and fried yau char kuey. Some add chopped and boiled kangkung. It comes with assorted fruits ie: half-riped papaya, mango, pineapple and vegetables ie: turnip, cucumber with lots of rojak sauce and grounded peanuts. The taste will be better with a little chilly to boost up the flavour. Price at RM3.40.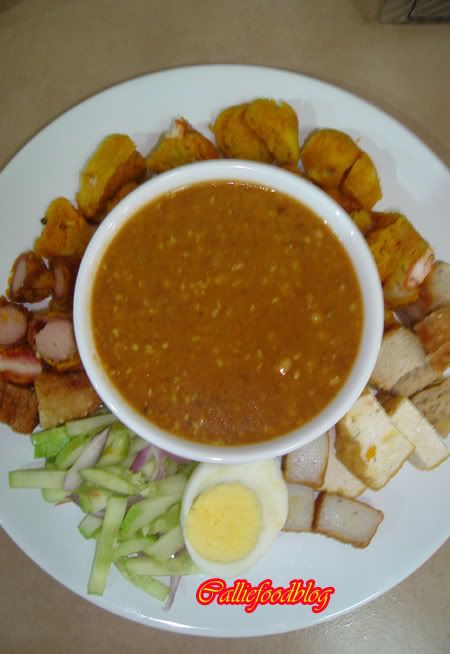 An Indian rojak with majority deep fried items like fish cake, fried sausage, fish ball and cucur vege with some slices of cucumber and large onions. It is served with peanut sauce, pour over or just for dipping. It tastes good with more items and the price will also definitely be good too. Moreover, 1/2 egg is added for this standard order. Price at RM3.00.
Penang Chinese Rojak & Indian Rojak aka Pasembur are different from KL version.
Do not be
""greedy and hungry"
when you order these rojak especially Pasembur from Penang hawker. You will end up paying a lot more. They charged accordingly to the items that you have ordered like flowers crabs, large sotong and prawns. Same with nasi kandar method where these items are graded as 'beli mahallll, kita jualll mahall, neh'. Go Chowrasta Market, murahhhh neh neh!.
So which one is healthier? Which one taste nicer? Only individual taste-buds will tell the eater. What is your opinion, my dear friends?