Satay is a snack food everyone adores when you feel like eating something charcoal-grilled. No one will resist if offered a stick to pluck out with your teeth and stuff into your mouth coated with spicy spicies peanut sauce. Even delicious if eaten with slices of cucumber, large onions and ketupat. Chew slowly and will be fascinated to order more!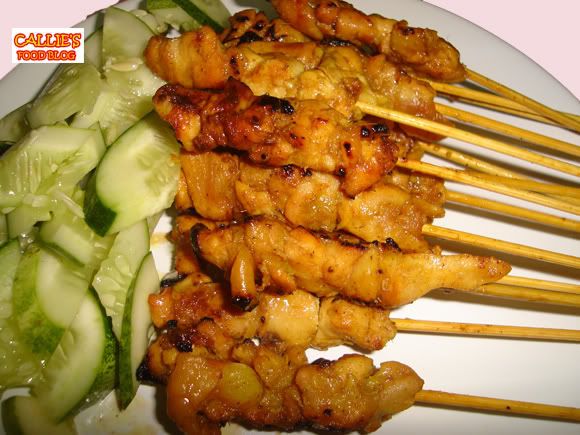 Satay Kajang Samuri is now available at Damansara Utama. One can choose to have a mixture of chicken, beef, and venision. This has been a popular take-away or dine-in food for us. Looking at the satay that is so appetizing and it was the unbearable nice smell that attracted me to blog this for saliva dripping when the urge of eating satay tickles me again. Once in a while other than thinking of Assam Laksa, Prawn Mee or KFC, I am tempted to satay.
The set of chicken satay at RM0.60 per stick x 15 sticks = RM9.00. Ciak Pa Pa! (
eat & get full)
So if you wish to know about this satay, here is the website
Satay Kajang HJ Samuri by Wikipedia. What is Satay?
Wikipedia
tells you more.


Sate Kajang Hj Samuri
No. 79, Jalan 21/37, Damansara Uptown, PJ

This is not a paid post. Just blog for "syiok" (pleasure)
Tel: +603 7710 5318