Looking around for food during dinner time is really interesting for our family members. Some may like to have eastern while minority prefer western. So when there is no decision made, normally DD will be the decision-maker because everyone gotto 'listen' to him or else...... So we it's Japanese pasta!
Soup Asari Pasta at RM25.00 comes with pasta, clams and fresh mushroom. A pasta noodles soup is now available at a 5 days old Japanese Restaurant at Promenade, I Utama Shopping Complex, PJ. It came with a large bowl of pasta, soup and sea food. The taste is average at this newly opened Retail cum Japanese Restaurant.

Curry Beef Rice at RM22.00 is a common rice with sliced beef cooked with Japanese recipe curry. It tasted as good as those available at most Japanese Restaurant. At Pasta Zanmai Restaurant, you can buy those packet curry paste home if you wish to do your own cooking.
Curry Deep Fried Cheese Rice at RM18.00 is ideal for the light-meal-eater. This dish is something light, no meat but cheese to pamper the like-to-eat deep fried stuff to savour the crunchiness with some nice curry flavour. Something different for modern Japanese Food.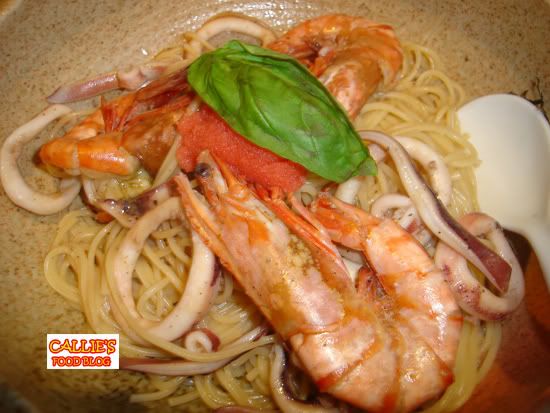 Wafu Ebi Ika Pasta at RM28.00 is something new in a Pasta Menu . Dare to try because she is always so in love with prawns. She ordered because she was actually attracted by the prawns image. The taste does not match her usual taste-buds and perhaps she only enjoyed the prawns.

YK Hotate at RM12.00, a side order with strong sweet sauce flavour.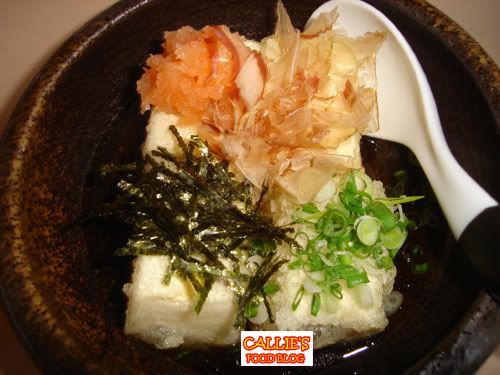 Agedashi Tofu @ RM8.00 is served in quite a big portion at this Restaurant.
Ice-Cream named Sansu Mori at RM12.00 came with 3 flavours. Chocolate, green tea and black sesame flavour. Something nice and cute to savour.
"Pasta Zanbai is branch restaurant to Zen Japanese Restaurant at Sunway Resort Hotel and another one at Sri Hartamas. We wanted to try out Pasta here", said Mr Tom the Restaurant Manager when he approached us to evaluate the food taste.

As we chatted along, we asked and he promoted his new restaurant concept. What a creative and lucrative business in attracting shoppers to buy Japanese products displayed like in Japan product store. But, if you are not observant, you may miss the Restaurant as the sign board is not signing that there is a Restuarant inside. If you look further inside, you can see the Chef hard at "wok services" from the glass kitchen.

Pasta Zanmai
G210B, Ground Floor Promenade
1 Utama Shopping Center
Bandar Utama, PJ
Te: 77281210/012-5071210