Selamat Berbuka Puasa!. We used to have fun visiting Ramadhan Bazaar during ramadhan month around Kelana Jaya, TTDI, Stadium Shah Alam, Section 14 and 19. You know there are lots of tempting food along the way and for sure we will be smacked with high urge to buy them and later ended up in the fridge and later into the bin. See, this is somehow called 'food-greed'. Most articles do advise us not to be tempted to buy just because you feel like eating but later you can't stuff them in. What a waste? No ramadhan bazaar visit yet. So we get set to
Pork Free Steamboat Buffet at UFO Churning Pot Steamboat Restaurant.

My picks to start my steamboat as my stomach was calling for food and saliva dripping for taste. What's more when UFO Restaurant is having a relocation promotion from RM21.80 to
RM18.80
exclusvie of drinks.
More seafood to start the boiling. This restaurant was formerly from Dataran 32 and now
at Paramount Garden, PJ.
My children loved these 'yong tau fu' ingredients they never refused from young. The thin and tall, Mr Siow was seen as busy as ever checking his customers' soup and drinks.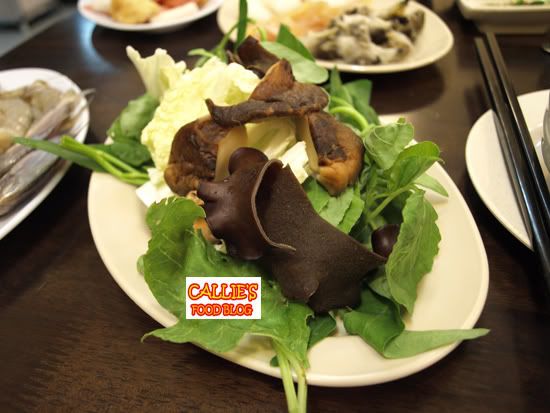 Vegetables must not be forgotten as a balance diet. But, many tend to ignore them as I saw the Waiters refilling more seafood and fish balls rather than vege. The services were good. No wonder they charged 10% service charge.
Scallops were served later on and it seems they were not displayed or perhaps being selected away with just an eye-blink! The Waiters are also quite fast in replenishing the food items. Not bad as some steamboat operators will leave the tray empty without checking.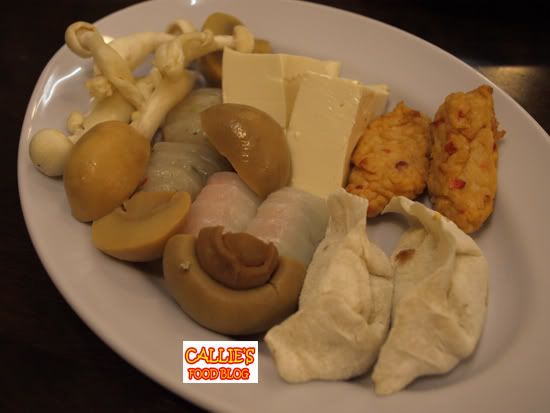 1, 2 or 3 pieces for each item will do, just to savour the cute dim sum. Nice to have them in small sizes to satisfy food lovers. You have to make reservations to avoid dissapointments. I saw a few customers queing at the entrance for the steamboat meal. What a good business,Mr Siow?
3 types of soup ready for the boiling. We preferred the clear and tomyam soup. The healthy soup with cyrsanthemum and "kei chee" is not too bad or maybe not tasty enough and we did not asked for any soup refill.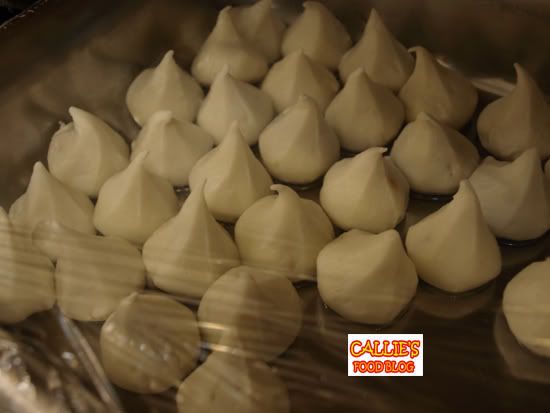 Cute to look at right? We did not pick this item as there were too much items to eat.
The food display counter. There were also at least 5 types of noodles, sauces, cakes and many other unnamed food here. I would say that this outlet is clean, serves wide varieties of steamboat items and the services were good.
The seafood display counter just next to the entrance. Fried rice and fried chicken were also displayed here. Food hygiene were properly maintained at this area as the Waiters were seen adding ice cubes to chill the seafood.
The ice-cream in a bowl were the favourites among the old and young. I saw mostly adults, father, mother, a kong and ah ma queing up to scoop many choices of ice-cream.
Ooops.. the ice-cream bowls have just gone out of stock, so most patrons were using 'bowls'.
Rugi lah towkay or towkay said ' how much you can eat'? Yam Ley Sek, lah!
Oh.. I think I have posted too many pictures here. Well, these pictures were too irresistible. Otherwise, they will be put in my food folder for keep and therefore wish to publish them to share with my readers. Dinner paid by author and photograhing done by Joo Joo with her Olympus E510.
UFO CHURNING POT STEAMBOAT
Mr Siow : 012-2219938/0126122859
N 31, Jalan 20.7, Taman Paramount
46300 Petaling Jaya, Selangor.