It takes only 55 minutes from Kuala Lumpur to Kedah Darul Aman by AirAsia flight. What one can see are paddy fields, mosque, muzium padi and no sign of flats, apartment or condominium mushrooming here and there.

As for food they are only at average taste unlike Penang a place of nice food and shopping heaven. These are among our favourite foods during our annual visit there.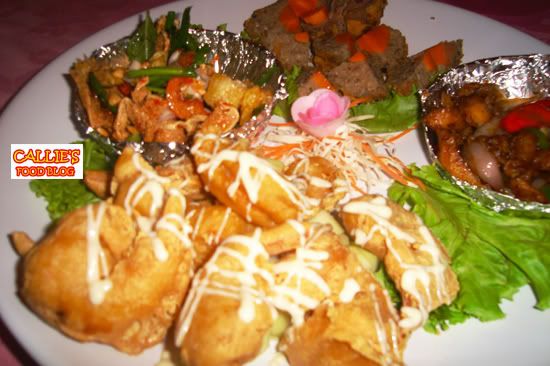 4 Seasons Combination Platter

Wantan Meen Special

Fish Paste Roll

*******************************************************************
Kedah in Brief
Kedah Darul Aman, Rice Bowl of Malaysia
The state of Kedah Darul Aman is a land of unique natural beauty, surrounded by the greenery of paddy fields, rolling hills and clear blue skies. Located 410 kilometers from Kuala Lumpur, in the northwest of the Peninsular, it shares a common border with Thailand.


Kedah covers an area of 9,425 sq.km, and its highest peak is Gunung Gerai. The state capital of Kedah is Alor Setar which was officially declared as a city on 28th November 2003. The state has eleven main districts – Kota Setar, Baling, Kubang Pasu, Kuala Muda, Bandar Bharu, Kulim, Langkawi, Padang Terap, Sik, Yan and Pendang. The state's population in 2003 was estimated to be 1.7 million people.

Kedah is the oldest state in Malaysia with a history that dates back to the 5th century AD.

During ancient times, it was a famous trading centre for merchants from as far as China, Middle East and India.

Since 1958, Kedah has been ruled by the Sultan of Kedah, Tuanku Abdul Halim Muadzam Shah whose royal lineage can be traced to Sultan Mudzafar Shah in 1136. Currently, under the state government, its Chief Minister is Dato' Hj. Mahdzir bin Khalid.
Known as the 'rice-bowl' of Malaysia, Kedah produces one third of Malaysia's rice production and is primarily an agricultural state. However, efforts have been made to diversify its economy in terms of tourism (Langkawi, Pedu Lake etc) and industry (automotive, aerospace, Kulim Hi-Tech Park).
Kedah has many interesting places for visitors to enjoy besides the tranquility and serenity of paddy fields stretching into the horizon. The most famous of these attractions is the legendary Langkawi Island which has been rated as one of the most beautiful islands in the world.

It is host to international events such as the Le Tour de Langkawi and Langkawi International Maritime Aerospace Exhibition (LIMA ). An article extracted from UUM